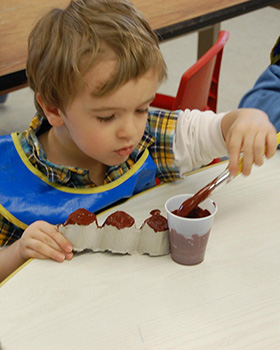 Our doors open at 6:30 am each weekday morning and breakfast is provided at 8:45.
This is followed by an engaging daily lesson plan developed weekly by the teachers for their individual classroom and curriculum.
Lunch is served at midday, followed by story time and rest period.
Nutritious snacks are provided mid afternoon.
Weather permitting, gross motor activities take place daily on our large outdoor playground. During inclement weather, we have our "Big Room" for indoor activities. Different age groups use the playground and Big Room at different times.
We are flexible, allowing varying family schedules and pick-up times. The Center closes at 5:30 pm.
Our office and teaching staff welcome your questions, comments and suggestions.
We truly value your unique needs as a family.